My current passion / project / money vacuum is a sailboat. I've had a few power boats this big, but never a sailboat. I am new to sailing. I am new to sailboat nomenclature. Consequently, I'm learning an entirely new vocabulary and slowing my MoJo from throttle-down, fuel-buying, wave hopping, lets go. To full displacement hulled, cutting through the water at turtle-like speeds, smelling the roses and everything else along the way.
With a literal heap of heavy not working stuff, it was a small mental and physical jump to consider changing diesel to electric back-up power. Eight thousand to rebuild the old Yanmar…considerably less (I'm hoping) to change to electric.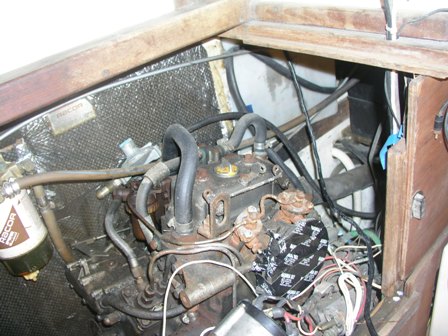 So, I just takes the old diesel drinker out. Viola! And now I has room to put in the Flux Capacitor.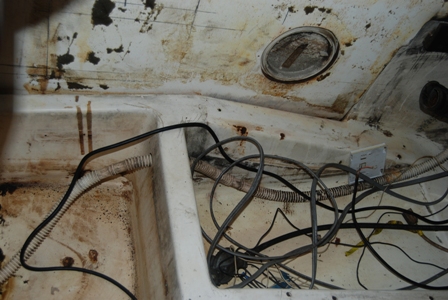 I'm meeting an entirely new group of service providers. Most of them providing services that I didn't suspect existed before I became a sailor. Holy crap! I just realized something when I wrote that. I am a United States Marine, describing myself as a sailor just doesn't fit somehow. I'm a lean-mean-fighting machine, not a rust scraping, deck swabbing, gray paint sloshing, sissy, wearing a white cape and a bowl on my head. I take that back. I am not a sailor. I am a Marine operating (working on) a sailboat. That is something completely different. If I want to scrape rust, swab decks and paint something gray, I'll damn well do it.
I will tell you guys more about these service providers as we go along. For now, I can tell you that hauling then cleaning then painting the hull of a sailboat is normal on a recurring basis. Usually every year. I never knew this. That's a lot of work every year. That's a lot of money every year.
Between Jacksonville and Stuart there are lots of people who do this work. I've spoken to several of them. Thinking back over the conversations and venues was an interesting exercise.
I've met several of these people on the phone. All of those on the phone were not men. All of those people, who were not men, on the phone had to call me back with estimates. I suspect that those people, who were not men, who had to call me back with estimates, had to talk to a man before they called me back. Maybe not. I still suspect yes, though.
Of those who were not women, one took me into an office that could have been used in an old movie. It was complete with ships charts, brass portholes and all such accoutrement as one would envision to be in a retired admiral's private study. This place was clean, tidy, shiny and made the hair on the back of my neck stand up the whole time I was sitting there looking at vinyl-covered price sheets in leather binders. The old salt was uppity, befitting his surroundings, but his prices were not that bad.
My favorite place and provider, and where I'll have P-4's nasty bottom wiped and powdered is near where the boat lives now. In case you missed it, P-4 is her name. She lives in the Trout River. She doesn't like it there, but that's for another post as well.
Bronson and Tommy, at the St. Johns Boat Company, were impressive in their knowledge, friendliness and apparent willingness to work with customers fairly. They understand the basics of service. I think that even I can learn something from them about service.
The other provider for today has nothing to do with bottoms or paint or fiberglass. He is Don at Precision Cycle in Orlando. I found him on the internet. He's machining and welding a doo-hickie that is the marriage of an old splined transmission coupling and a new keyed shaft sprocket holder. This metal thing will primarily serve to allow the motor to turn the prop. AND allow the prop to turn the motor.
I get goosebumps contemplating how cool electric motorizing is. See, when the electric motor is turning the prop, it
battery power but when the boat is under sail, the motor is off, but the prop turns the motor now and it acts as a
of battery power. How cool is that?
Anyway, Don hasn't done the thing yet. But, I can tell from talking to him, (1) it will be done when he promised, (2) it won't break or fail (3) it will carry the pride of his craftsmanship and bear out his reputation
Don knows a thing or two about service.
These guys are the kind of guys that you guys want to do business with. Finding guys like these guys is what keeps this guy from writing negative comments about guys that should not even be mentioned in the same breath as guys that provide good service.